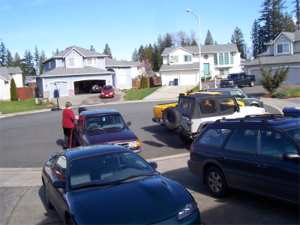 1. Step one: Parking

As you pull up to the gLAN you will see many cars unloading. You don't have to worry about blocking people in. Once each car has been unloaded, you and the rest of the cars, will then be able to pull out and park down the street.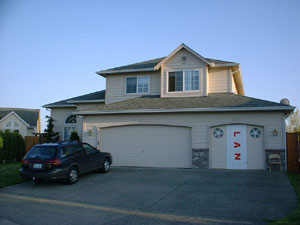 53rd AVE has been the preferred place to park. If you are planning on parking on 112th Pl NE, just be careful not to park in front of the house across from the mail boxes. Darrell gets a bit upset if someone is parking in "his spot" in front of his house. Check out our parking map. *Reminder: No parking in cul-de-sac
---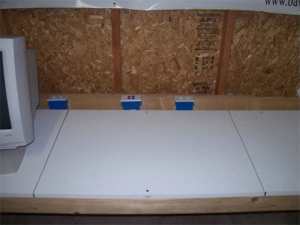 2. Step two: Seating

Once you enter the gLAN you will see tables all around you. Please don't just walk up to an open seat and start setting up your stuff. Most of our gamers use the online "live" seating chart to reserve their sit. If you have already done so, and you remember which table row you selected on the seating chart, continue by locating the "N", "S", "E", "W", or, "C" (large letters) on the walls. Then look for the small sticker which will designate the seat number.

*If you didn't pick a seat during your online registration, or if you have forgotten which seat you selected, you will have to double check with the online seating chart. Ask a staff memeber or a fellow gamer with internet access to display the seating chart for you. Once you have found your seat you will see some lines to the left and right of your spot. These are your boundaries. Try to keep all your gaming goodness between these two lines.
---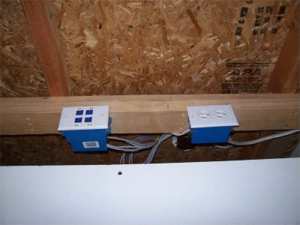 3. Step three: Network & Power

Near your "seat", you will find an electrical outlet and a network port. These are the first things you should hook up. If you didn't bring a network cable be sure to skip to the next step. If you did bring a network cable, go ahead and plug it into the closest port. (No need to match the port number with your seat number) Next, plug in your surge protector (Do not daisy chain). *Please only use one electrical outlet. The other empty outlet is for your neighbor.
---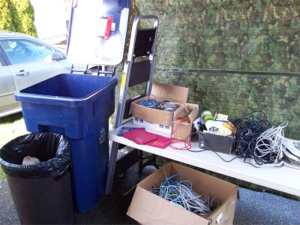 4. Step four: Use & Return Bin

This step is for those of you that may have forgotten something at home. May it be a network cable, surge protector, keyboard, mouse, network card, or even a power cord or two.

After throwing these events for the past few years we have collected a lot of the usual items that are of the most forgotten. Well lucky for you, just grab the item you had forgotten and finish setting up. This is just one way that we are trying to make your LAN experience better. Especially if you drove more that an hour to get the the gLAN. *Please be sure to return the item after you have used it.
---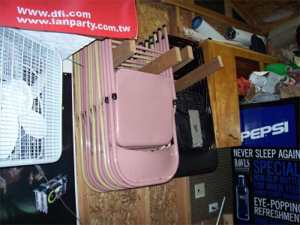 5. Step five: Chair

If you didn't bring your own chair, be sure to grab one from our chair rack. (*Next to the vending machine) Please remember to return your chair to the rack after the gLAN.

You will notice that most of the veteran gamers bring their own chairs. The reason for this will be understandable after say... the 12th hour of sitting in one of the metal folding chairs. If you can't bring your own chair you might want to bring a pillow. Your back side will be most grateful.
---
6. Step six: Firewalls & Static IP's & Shares

This step is very important. This is where you will configure your software firewall to allow each and every game to be able to see the network. Or you can do the quick way and just disable the firewall for the duration of the LAN. The next step is to ensure that you don't have internet connection sharing on and that you don't have a static IP address. Both of which could mess things up for you and the other gamers at the LAN. Lastly and most importantly, ensure you don't have anything shared that you don't want preying eyes to see. One of the cool features of a LAN is the file sharing. This file sharing really picks up during the wee hours of the night as some of the gamers start to wear down from all the gaming. You will see gamers watching movies, surfing the web, and the occasional gamer catching some Zzzzz's. Perfect time to fileshare! Just be sure you aren't sharing your tax returns or something more personal. ;-)
---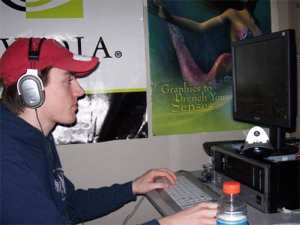 7. Step seven: Game On!

Start gaming! Be sure to check the GOTH (Game of the Hours) board. This is a dry eraser board next to the vending machine. This board will have the current GOTH as well as the next GOTH. This way you have plenty of time to get ready to play the next action packed gaming session. This board will also have important info on game updates and patches.